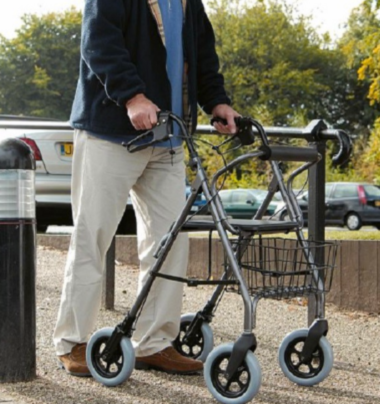 If you are in Red Deer and looking for Wheelchairs, walking aids, electric scooters, canes, crutches or walkers, we are pleased to tell you we carry all of these products for our customers. Out products are top notch, premium quality products that are priced reasonably so everyone can afford to buy these when needed. We have established ourselves in Red Deer as one of top provider for mobility aids. We are trusted by the locals only because we offer premium quality products from leading manufacturers in the industry. The specialists at Optimal Move strive to ensure they match you with the right mobility aid for your requirements and needs. You will not find such a dedicated team that works to help customers achieve a better quality of life with increase mobility. Whether it is power chair, scooter, wheelchair, walker, cane or crutches, our knowledgeable team members are here to assist you in choosing the product that is just right for you.
We carry wide selection of wheelchairs, including manual, electric, lightweight, wide-set, reclining, as well as pediatric wheelchairs. We carry dependable, quality and efficient products that can help customers and make their life easier. We offer a wide range of easy to operate mobility scooters that include heavy duty scooters as well as collapsible ones. The mobility scooters are suitable, comfortable, and efficient transportation methods for those who have difficulty walking long distances and even stand for extended periods of time. They can continue their everyday tasks without any hindrance. You can find a variety of walkers and crutches at our location as well. From adult walkers with baskets, knee walkers, forearm crutches, Wood or Aluminum crutches, canes to pediatric walkers, we offer it all for our customers.
At Optimal Move, we offer a large variety of medical equipment for rent to meet the needs of our customers. Whether you require equipment while you are recovering at home, or you have a loved one that requires medical equipment, we have you covered. From Electric mobility scooters, wheelchair, walkers, hospital beds, lift chairs, shower chairs, bathroom safety equipment to other mobility aids, we carry it all and much more. We also offer long-term rental discounts that can be offered upon request. Call us today at Optimal Move to get more information and secure the medical equipment for rent in Red Deer.
Getting older can be tough, but that does not mean you cannot age and live life easily. Even if you require assistance while doing some things in life, it should not stop you from living your life to the fullest. We take pride in being a medical equipment store located in Red Deer, where you can get medical equipment for rent so that you can continue to be active in life.
Renting equipment could be a promising idea in some cases. If you have a tight budget, or a condition that may be short term, equipment rental may be the best option for you. You may also be able to try out a product and its quality to ensure it is a good fit for you or your situation before investing in buying the product and being stuck with something that does not work for you. In some cases, your condition may change, and you may require a different level of product. Renting equipment enables you to change products or try another until you find what fits you well. Call us to get more information on our equipment rentals in Red Deer.